The Yaros Collection
---
Use of the term "collection" does seem to be more than a bit presumptuous here. I can definitely say, it was never intended to get out of control. However, once that first step is taken down a slippery slope, these matters do seem to take on a life of their own.
In my youth, I was the proud owner of a 1960 Olds Super 88, 2-dr. Hdtp. What made her more than remarkable was that she had 3-on-the-tree from the factory! Such critters were more than few and far between. I always appreciated the styling and engineering of that ride.
So, it all started with a desire/effort to find another 60 Olds; some 40 years later. I gave up all hope of finding one with a factory stick setup. Consequently, our focus was on the second best option, a convertible. We looked at many, no matter where situated, and even went so far as to attend a Mecum auction. The end result was, they were way overpriced, or in miserable condition.
On striking out with a 60, we expanded our outlook to encompass early 60's vintage Oldsmobiles. That is when we literally stumbled upon SAVED 62, our Dynamic 88 convertible. It was in more than great shape, and the price was right. After seeing and driving it, we pulled the trigger on the deal and bought it. This was in 2005. At purchase SAVED 62 had only 32,178.4 actual miles on the odometer. Additionally, the original purchaser resided in my home county of Lake, in NW Indiana. How could we not buy her?

Not long after acquiring SAVED 62 Jean decided the car was too big for her to feel comfortable behind the wheel. She began pitching for a small convertible she could drive. She was partial to Corvairs, as that was her first car. Her father had bought it for her. Being a wise man, he bought a sedan, not a rag top. I knew next-to-nothing about Corvairs, other than what was common knowledge about them (whether accurate or not) back in the day. What I did know was not favorable.
At any rate, a 63 convertible surfaced on the ebay horzion. We put in a bid and, lo and behold, we won! So now, for the first time in my life I found myself arranging for transport of a car to WI from WV. Luckily, that experience worked out well. When all was said and done, Ride #2a came to occupy a stall in the Yaros Car Barn.
Myself, like former President Carter, am guilty of lust. However, my lust was for a car; specifically, a 1956 Cadidllac Coup de Ville. I just think they have sleek lines that say elegance and class. I looked at many, no matter where they happened to be located. It seemed every time I decided to act, the car was either already sold, or in miserable condition. For a number of years, my lust remained just that.
One day, I stumbled upon a '56 de Ville in the digital edition of Hemmings Motor News. This ride was in WA state. Well, laying eyes and hands on the car was a problem, given the distance. I was serious enough that I retained an auto inspection company to look at it for me. I was not about to part with big bucks, only to end up having purchased a pig in a poke.
What did the inspection cost? Was the cost of the inspection worth it? Both are valid questions. I believe in pulling no punches when it comes to suppliers of services to auto enthusiasts. Be it good or bad, I vow to tell it like it is, based on my personal experience. The company I hired was Automobile Inspections, LLC. I have to say, when it comes to old rides, this was the best investment I have made!
The inspector spent 3 + hours going over the car with a fine-toothed comb. A written report was prepared. It was accompanied by 149 photos. I got all that, plus a separate written opinion of value for $404. The prepared report permitted me to understand exactly what it was I was considring buying. Bottom line: it convinced my not to buy. Why? See the pic, below.
The pic speaks pretty well for itself, and says quite a lot, IMHO.
Unlike with Saved 62, while scouring the ends of the earth for a Caddy, I did not limit myself to the 1956 model year. I initially included 1954's, 55's and 56's. This was an easy decision, because they all have the same basic design. What one notices on study of these years is a clear progression in design refinement toward sleekness. While I still feel 1956 represents the epitome of design for these years, the earlier years aren't exactly shaggy. Additionally, 1956 did have one drawback in my eyes. It was the interior. The seat coverings went a little too chintzy/gaudy to suit my taste. Somehow, the class factor just was not there.
Then, The Gray Lady made her appearance. Where did I first spot her? Can one say ebay? Yes, I know, the online auction fourm has been mentioned more than a few times. Let it suffice to say I am an inveterate patron. At any rate, numerous telephone conversations with the seller were had. 100 + pictures, some specifically taken at my request/direction, were reviewed. When all was said and done, I decided that both the condition of the car, and the price were right. Rather than let her slip through my grasp, I made an offer, subject to the seller immediately pulling the car off the electronic auction block. Agreement was reached, and The Gray Lady is now ours.
What formerly was a couple of old cars, with the addition of The Gray Lady, now became a true collection of classic rides. And, a fine addition she is!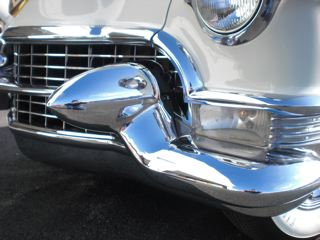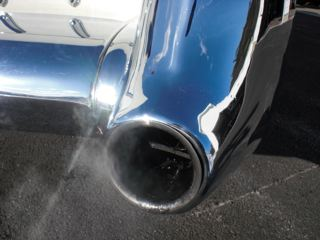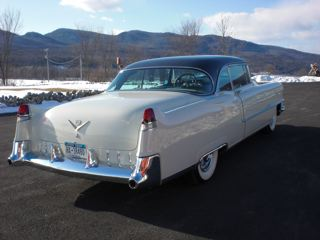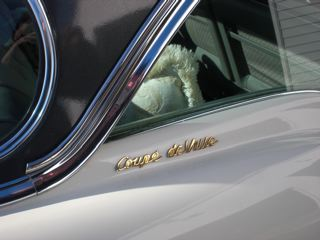 Why did I buy the Gray Lady? Perhaps this pic of my father will explain it; better than any words I might try to use?
If you have made it this far, congratulations for your perseverance! If you are a sharp reader, you may have noticed a reference in the discussion of the Corvair as it being "Ride #2a." A logical question on seeing that would be, "What the heck is that #2a about?"
The answer is simple. Intitially, the smaller convertible that Jean would feel comfortable driving was not the Corvair. Rather, it was a 1985 Buick Riviera convertible; 1-of-400 manufactured. We spotted it at an auto show in which we were participants. Jean liked it. We checked it out, drove it and investigated its market value. We ended up buying it.
The Rivi did not stay long, however. Its short stay was not because Jean did not like the car, or that it had problems. Rather, the fan base for the car is what disturbed her. For her, it attracted attention from the wrong crowd. We were fortunate enough to be able to sell it in less than 7 days, and at a profit of $3,100. She now has a home where she is appreciated.
If the above tells you anything, it is that you should beware. The purchase of an old ride can lead to who knows what? You don't want to know about the 2-car unattached garage that has been transformed into a 3-stall car barn with hydraulic lift that now holds four rides!
Sep-2009: This summer Jean first laid eyes on the Cadillac Allante. Now, she has to have one. I have put my foot down, however! There will be no new rides added to the Yaros Car Barn until something leaves. SAVED 62 (Olds) and The Gray Lady are not going anywhere! That only leaves one option. If/when the Vair sells, we'll see what happens on the Allante front.
---
A New Toy!

[6 Oct 2009]

Here is an ebay find recently added to the Yaros Car Barn that I thought folks might find of interest? It is a "state of the art," circa 1947, Allen Electric Equipment Engine Diagnostic tool. I have learned, since purchasing it, that the actual name for the device is "Uni-Tuner." In actuality it is combination tachometer, volt meter, vacuum gauge, fuel pressure tester, dwell meter and ignition tester. Allen Instrument, out of Kalamazoo, MI, sold the device in 1948 for $458. That is an amout equal to well over $4,000 today! I paid $56 for it. I have also found and purchased the orginal Uni-Tuner Owner Manual and Specifications book.

The silver bar below the knobs is the storage compartment cover. Inside, and all hard wired, are the battery terminal and spark plug leads, timing light head, ignition resistance probe and the vacuum port. As you can see, the gauges are lighted. The unit weighs 12 lbs. +, if it weighs an ounce.
They just don't make 'em like that anymore!
---
[15 Oct 2009] - Ride #2a, Jean's Corvair, may soon be departing the Yaros Car Barn. It was listed on ebay, but did not sell. Being one who does not accept defeat easily, I contacted everyone who bid on, or inquired about, the car while the listing was active. I stated a set price for the car. Lo and behold, an individual is flying into Milwaukee from Philadelphia this Saturday to take a look! We shall see?
[17 Oct 2009] - The Corvair departed for a new home in PA on Saturday, with its new owner behind the wheel and the car loaded with parts and docs. It could be a long trip given the distance is approximately 1,300 miles and I calculate a need to stop for gas every 200 miles? I wish the new owner, and the Vair, well.
[19 Oct 2009] - The new owner (picured above) reports he arrived home in PA, safe and sound without incident, at 0030 Hrs. on Monday. On the drive home he averaged over 30 MPG!
---
[13 Nov 2009] - Here is an article on Saved 62 that appeared in the October issue of WIsconsin Auto & RV magazine, as a result of our participation in the Historic U.S. Hwy. 27 Tour this past summer:
---
[18 Nov 2009] - Here is the latest addition to the Yaros Car Barn. (It replaces Jean's 1963 Corvair Monza convertible.)
What you are looking at is a 1992 Cadillac Allant. The 1992 MSRP was $59,965.00! To that must be added $1,300 for gas guzzler tax, bringing the total acquistion cost to $60,995! It is pearl white (metallic) in color, w/red stripe. It has 50,000 miles on the odometer. It is 1-of-21,430 Allants manufactured by Cadillac from 1987 through 1993. It is 1-of-1,931 made in 1992, and ony 1-of-531 painted pearl white that year. We have dubbed her "Auntie Pearl."
"Auntie Pearl" was permanently moved out of the Yaros Car Barn in the fall of 2012. She now resides in Naperville, IL. and was replaced by a 2002 Toyota Camry Solara convertible. The Solara provides far easier ingress/egress for us oldsters!

SPEAKING OF COLLECTIONS
I have created an place online for fans of old rides to gather. It is brand spanking new, and waiting for you to come on by to introduce yourself, your ride(s), your interests and to engage in "car barn talk." It is Car Collector Chronicles -THE FORUM found online at http://ccc.activeboard.com.
---
RETURN TO:
Main Menu
---
Created 17 Apr 2009 - 09:42:44 Hrs. / Updated 14 Nov 2014 - 20:55:37 Hrs.

Copyright 2009-2014, G. David Yaros. All rights reserved.